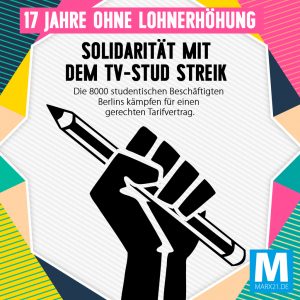 We did it! Thanks to the powerful means of Radio No Border, the Critical Workers broadcasted its first Critical Radio show (audio below).
In the cozy atmosphere of Fritto (wildenbruchstr 24) several people joined to drink some wine, eat panzerotti and listen to something that was middle way between an interview with guests and an info event. We liked the format of the open radio show and we're going to do more.
Meanwhile you can listen to the one we recorded on the 22nd of March. A long interview with a member of TVStud (tvstud.berlin), an organization of student assistent struggling for a fair wage (but not only). A very interesting campaign we've been in touch with.
"With this open radio broadcast, the Critical Radio, hosted by RadioNoBorder we want to give precarious workers, which too often are being forgotten within the public debate, a voice. This time, we speak about the struggle of the precarious workers at the Berlin University. Many thousands of people are working in Berlin as student assistants and tutors. Their collective contract has been blocked for 17 years, their salaries are low and they often fulfil unpaid tasks. Since few months they decide that that is enough. The organize also with the help of the unions and they started a strike to get better working conditions, although the university management tries to scare and hinder them. We invited a comrade involved in this struggle since the beginning, who told us a bit how the struggle began and which are the future perspectives."
Organize, fight, resist! Join the Critical Workers!