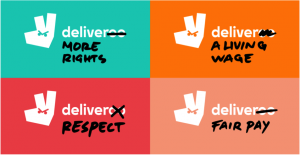 We did it AGAIN! Thanks to the powerful means of Radio No Border, the Critical Workers broadcasted the second Critical Radio show (audio below).
This time we took a closer look at two awards: Deliveroo received the award for being the worst employer of the year by the Aktion-Arbeitsunrecht. Instead of a golden cup, Deliveroo won a strike of their employees on Friday 13. We interviewed a former Deliveroo rider in Berlin, now Deliverunion member, a Foodora rider also from Berlin and an italian activist. We examined the backgrounds as well as working conditions in Deliveroo and Foodora. We gave some updates about international struggles and analysed the situation together.
We also took a brief look to the Axel-Springer-Preis, the Prize for the Amazon-CEO, Jeff Bezos. Amazon is known for bad working conditions and union busting. More will come in the next radio show.