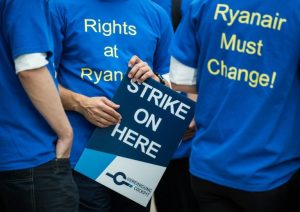 After a short summer break, Critical Workers´ radio inquiries into workers' struggles continue. This time we will talk to the flight attendants of the low-cost airline Ryainair, who have recently striked and blocked flights throughout Europe and even here in Berlin against their working conditions. Rather than repeat what everyone has read in the newspapers, we will have their voice tell us directly which are the steps that led them to organize the struggles.
As always we will meet at Heart's Fear (former Fritto, wildenbruchstr 24, 12045) offering drinks and live discussion supported by our comrades of Radio NoBorder.
People who cannot come to the event itself, may follow the show under http://radionoborder.net/live/. The show is going to be in English but we can also provide translation for German and Italian if someone wants to participate in the discussion.
Opening: 7 p.m.
Start of the live-stream: 8 p.m.