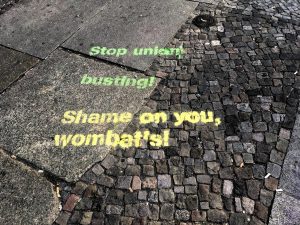 It was a long year for the staff of Wombat's hostel. Cost of living has risen in Berlin but they still had to deal with minimum wage and unpaid extra hours or night shifts. It is something very common in the hotel sector, not only in Berlin. They told to our microphone (we still have just one) how the young travelers, chic neighbors and the management couldn't care less.
What's unusual is that they managed to unionize, to elect a working council (Betriebsrat) and to reach a Collective Agreement (Tarifvertrag). The employer started with union busting: outsourcing, issuing warnings and dismissing people. In January 2019 the negotiations for (or against) the outsourcing of the room cleaners revamped the struggle.
We hear their (success) story directly from their voices.
Note: real discussion starts around min 3.